Hank Von Sehr Gut Wesen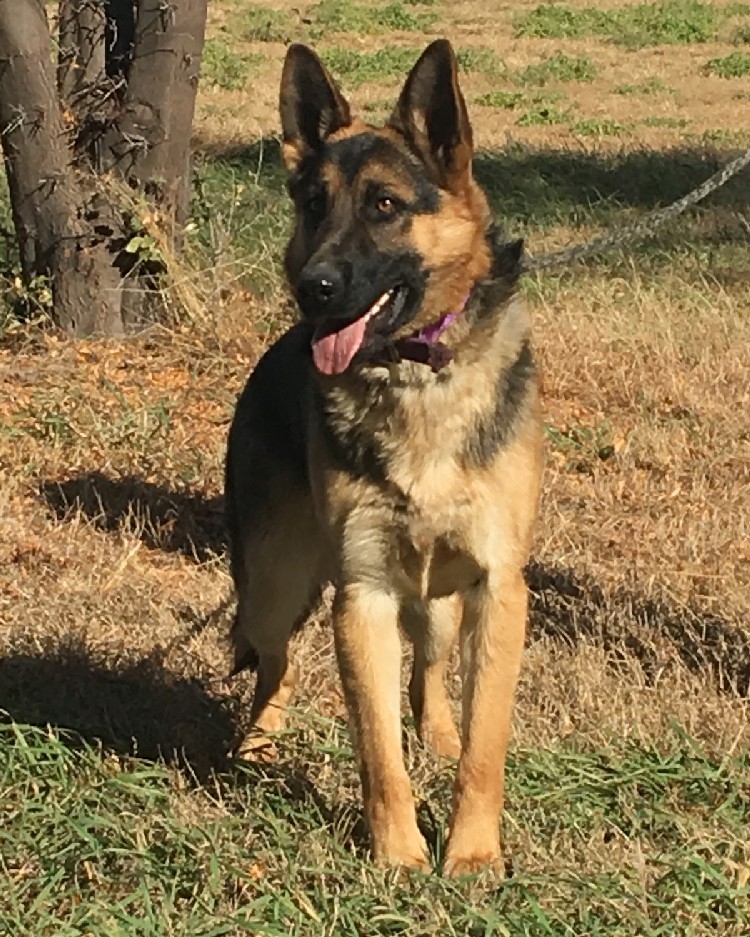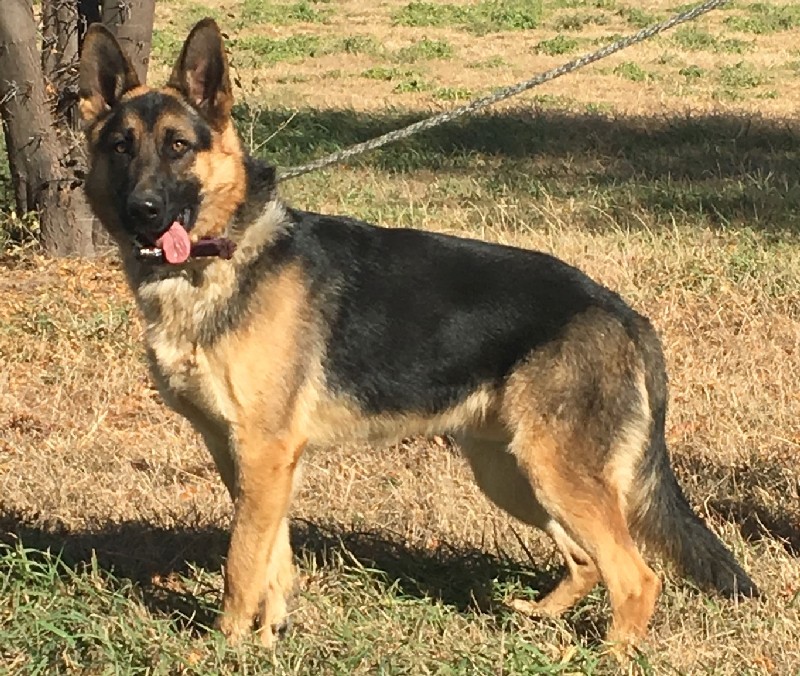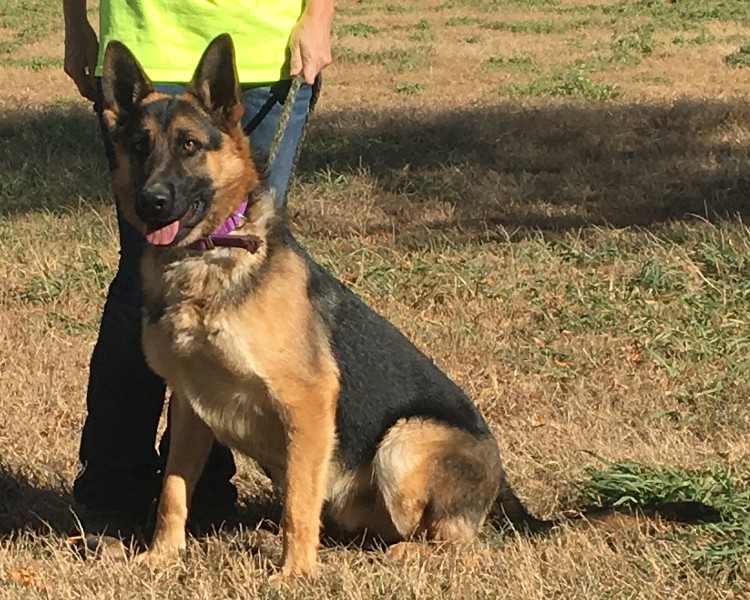 Hank Von Sehr Gut Wesen
OFA-Hips/Elbows & DM A/N DDC. Blk/Tan dob Nov 2015, 85 lbs, AKC, 1/2 DDR
Hank's Sire: Tribute
Hank's Dam: Jennifer
Approximately 50% DDR East German Working lines and 50% West German
Below is Hanks Pedigree
Hanks Sire, Tribute's Info followed by his dam, Jennifer aka Jayda
My Tribute von Hena-C
100% DDR East German Working lines blk/tan dob 12/24/08, 100 lbs, AKC, DNA, OFA
HD-Good / Elbows normal DM clear
Tribute's Grandmother

Destiny von Haus Cimmerian

73lbs and stands 24" tall

OFA/SchH USA Hip certified #000313(good) Elbow #(GS-EL11994-PI)

Pictured below Tribute


Tribute's Sire:
Blek von Hess Haus DDR OFA hips(GS-72806F30M) elbows(GS-EL17895M25-PI)

Tribute's Grandsire:
V-Treu v. Schaferliesel SCHH 1 DDR Import. ZW:71 "a" normal hips & elbows clear

Offspring male from Tribute below at 7 mo old

DDR dogs have a strong, solid, lean, muscular body, heavy bone structure and a large massive head. They have dark pigmentation and are not as angulated as West German show dogs. These dogs have a strong temperament, great working ability and are well suited for Schutzhund, police work, search and rescue and many other tasks. Most importantly, DDR German Shepherds have a very low incidence and severity of hip dysplasia.

My Tribute Von Hena-C Sire
DDR Blek von Hess Haus Pedigree Below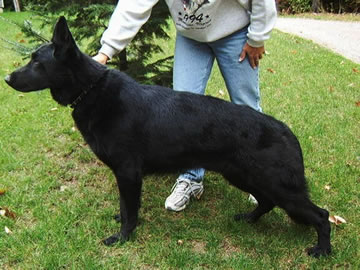 Click Photo above for more Pictures and pedigee
BH
Gero vom Rockenberger Schloß
HD-SV: HD a-normal (a1)
Sire

DDR Import. ZW:71 "a" normal hips & elbows clear

SCHH3 (SG-LGA)
V Aron vom Sachsentraum
1993
SZ 1875410
HD-SV: HD a-normal (a1)
Sire



SCHH2


SG Filou vom Kaolinsee


1987
SZ 1857919
HD-normal
Sire

SchH3
SG Ilka vom Sachsenwappen
1989
SZ 1840221
HD-normal
Dam


SCHH3


Tessa vom Ratsberg


1994
SZ 1887166
HD-SV: HD a-normal (a1)
Dam

SCHH3


Mingo vom Ratsberg


1990
SZ 1876637
HD-fast normal
Sire
SCHH2


Yanke vom Haus Assja


1983
SZ 9004377
HD-SV: HD a-normal (a1)
Dam

SchH1, DDR importOFA Good hips(GS-59128G58F-T) and elbows clear

SchH3/IP3
V Don vom Haus Iris
1991
SZ 1801343
HD-normal
Sire




SchH3/PSH1
V Alf vom Körnersee
1983
SZ 1831928
HD-normal
Sire

SCHH3
SG Gabi von der alten Wassermühle
1988
SZ 1836521
HD-normal
Dam

SCHH1


Cessi vom Parchimer Land


1990
SZ 1837493
HD-fast normal
Dam



SCHH2 FH
SG Addi von den Tonteichen
1986
SZ 1826064
HD-SV: HD a-Ausland (a6)
Sire

SchH1


Klockow's Perle


1987
SZ 1813265
HD-normal
Dam
My Tribute Von Hena-C Dam
Destiny's Treu Child Von Hena-C, OFA good, Pedigree Below
SCHH 1
V-Treu vom Schäferliesel
2000
DDR
HD-SV: HD a-normal (a1)
Sire



SCHH3
V Sven vom Gräfental
1996
SZ 1963946
HD-SV: HD a-normal (a1)
Sire


SCHH2
V Götz vom Gräfental
1990
SZ 1802917
HD-SV: HD a-fast normal (a2)
Sire


SchH3/PSH1
V Alf vom Körnersee
1983
SZ 1831928
HD-normal
Sire


SCHH1


SG Tapsi vom Parchimer Land


DDR 9005217
HD-normal
Dam

SCHH1
SG Olita vom Gräfental
1985
DDR 144447
HD-SV: HD a-normal (a1)
Dam


SCHH2, FH
V Aras v Gräfental
1981
DDR 122609
HD-
Sire


FH/FH1


SG Britt v Böttcherstuck


1978
DDR 99569
HD-SV: HD a-normal (a1)
Dam


V-Illa von der Mittlehauser Flur
1996
SZ 1950787
HD-
Dam


SCHH3 ( SG-LGA )
V Brando von der Marderklause 1991
SZ 1813132
HD-SV: HD a-normal (a1)
Sire



SCHH3 ( G-BSP ) IP3
SG Irko vom Peri-Hof
1987
SZ 1843550
HD-Normal
Sire

FH, SCHH3


SG

Odett von der Marderklause


1987
SZ 9005676
HD-normal


Dam

SCHH3
SG Cessi vom Gleisdreieck 1990
SZ 1807929
HD-SV: HD a-normal (a1)
Dam


SCHH3,FH,PSH1,KÖR.5547/34
V Bac vom weißen Holz
SZ 1739567
HD-SV: HD a-normal (a1)
Sire

SchH3


SG Astritt von Starkenberg


HD-normal
Dam


Destiny von Haus Cimmerian
1998
AKC DL74663604
HD-OFA: Good
Dam



SCHH3 DPO2.WPO.3XUSA DPO CH..7TH WORLD KKL-1
SG Alk vom Osterburg Quell
1992
SZ 1853017
HD-OFA: Good
Sire

police k-9. National Police Dog Champion

SCHH3, FH3
SG Lord vom Gleisdreieck
1983
SZ 1735999
HD-SV: HD a-normal (a1)
Sire


SchH2/FH
V Jeff vom Flämings-Sand
1979
SZ 1609706
HD-normal
Sire

SCHH3,FH
V Sara vom Bramberg
SZ 9003169
HD-SV: HD a-normal (a1)
Dam


SchH3/FH/PSH2
V Mentor vom Haus Iris
1981
SZ 9002709
HD-SV: HD a-normal (a1)
Sire



SchH1
Jen-Ager's Yla
DKK 2649391
HD-FCI: A 1/2
Dam



SchH3, FH1
V Zorro vom Laager Wall
1984
DDR 137140
HD-normal
Sire


SCHH2 FH
V Artus von der Westendhöhe
1979
DDR 104997
HD-zuerkannt
Sire

FH
Gina von der Datze
1985
DK 07959/91
HD-SV: HD a-normal (a1)
Dam


SchH3
V Held vom Ritterberg
1978
DDR 103314
HD-SV: HD a-Ausland (a6)
Sire
Hanks Dam Pedigree Below
(Call name Jayda) Jennifer Vom Engeljayda
August 12, 2009, AKC German Showlines OFA Good hips and elbows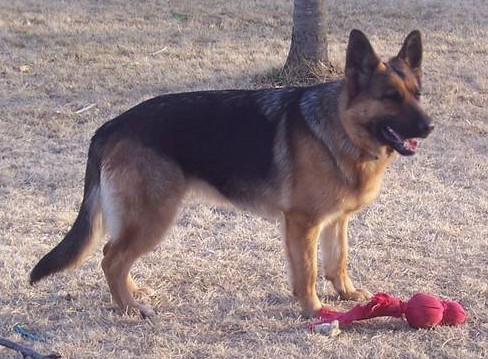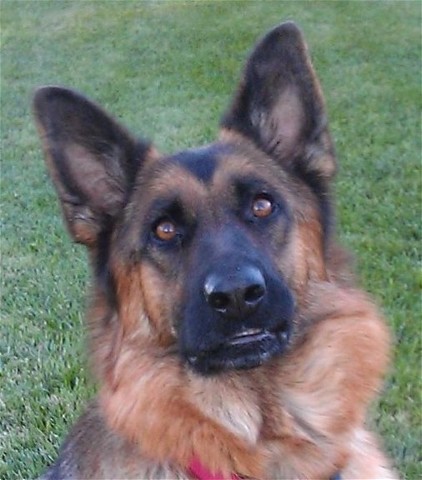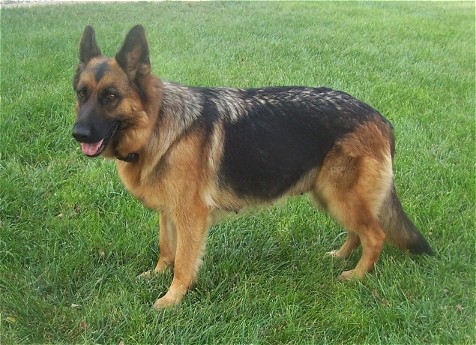 Jennifer goes by the call name Jayda. Her daughter Alice and she are owned and homed by Deb Fitzke
Jax Vom Steinquelle
2004
AKC DN06730803
HD-OFA Good
Sire


SCHH3
V Nickor vom Fichtenschlag
2001
SZ 2094766
HD-SV: HD a-normal (a1)
Sire





SCHH3
2X VA1 Yasko vom Farbenspiel
1998
SZ 2010154
HD-SV: HD a-normal (a1)
Sire






SCHH3
VA1 Ursus von Batu
1995
SZ 1932624
HD-SV: HD a-normal (a1)
Sire




SCHH3
VA1 Connie vom Farbenspiel
1994
SZ 1903611
HD-SV: HD a-normal (a1)
Dam


SCHH 3
VA2 Yonka vom Fichtenschlag
1997
SZ 1991411
HD-SV: HD a-normal (a1)
Dam





SCHH3
VA5 3XVA1(HOL) Shanto's Xano
1993
SZ 1970074
HD-SV: HD a-normal (a1)
Sire



SchH3/FH1
VA2 Holly vom Fichtenschlag
SZ 1892825
HD-SV: HD a-normal (a1)
Dam



Rayna Vom Steinquelle (USA1)
2001
SZ 8014613
ZW-#77
HD-
Dam

SchH3
VA 7 Pitt von Tronje
1993
SZ 1882021
HD-normal
Sire





SchH3
VA3 (B) V3 (BSZS) Amigo vom Belgier
1990
SZ 1770906
HD-SV: HD a-normal (a1)
Sire


SchH1
V Tini vom Schwabental
1988
SZ 1740669
HD-fast normal
Dam


Judy vom Fichtenschlag
1998
SZ 2018541
HD-
Dam


SchH3
VA8 Fello vom Farbenspiel
1995
SZ 1927216
HD-SV: HD a-normal (a1)
Sire


Quana vom Fichtenschlag
1996
SZ 1955647
HD-noch zugelassen
Dam
Wella Vom Danischen Hof
1999
DN/15791402, V576643 (GER)
HD-SV: HD

Normal


Dam



SCHH3, ED-NORMAL
VA5 Nero vom Nöbachtal
2001
SZ 2080775
HD-SV: HD a-normal (a1)
Sire





SchH3
VA4 Enzo von Buchhorn
1995
SZ 1930146
HD-SV: HD a-normal (a1)
Sire





SCHH3, IPO3, FH1, BG
VA1 Lasso vom Neuen Berg
1991
SZ 1820256
HD-SV: HD a-normal (a1)
Sire


SchH2
V Tina vom Lechtal
1991
SZ 1818219
HD-SV: HD a-normal (a1)
Dam


SCHH1
V Angie von den Amperauen
1997
SZ 1997769
HD-SV: HD a-normal (a1)
Dam



SCHH3
VA1 Ursus von Batu
1995
SZ 1932624
HD-SV: HD a-normal (a1)
Sire

SchH2
V Dendi vom Haus Schalk
1993
SZ 1884028
HD-SV: HD a-normal (a1)
Dam


SCHH1
V Piana vom Dänischen Hof
1999
SZ 2061951
HD-SV: HD a-noch zugelassen (a3)
Dam






SCHH3
VA3 Esko vom Dänischen Hof
1997
SZ 1998887
HD-SV: HD a-normal (a1)
Sire





SCHH3
VA2 Jango vom Fürstenberg
1994
SZ 1896845
HD-SV: HD a-normal (a1)
Sire


SCHH2
V31 Una von Oxsalis
1994
SZ 1904966
HD-SV: HD a-normal (a1)
Dam


SchH2
V7 Xantia vom Dänischen Hof
1996
SZ 1958731
HD-fast normal
Dam






SCHH3
VA1(C) Lord vom Georg Vicktor Turm
1993
SZ 1888292
HD-SV: HD a-normal (a1)
Sire





SCHH2 KKL1 LBZ.
V (BSZS) Minka vom Dänischen Hof
1993
SZ 1863936
HD-normal
Dam