Kiwi von Sehr Gut Wesen
Black and Red Dark Blanket Back/ Short Coat, Close to 50/50 Outcross German Working/Show Lines. 75 lbs
Hips Good & Elbows OFA normal, DM cleared by parentage
Kiwi is from our own breeding program out of Nina and Tribute
Kiwi Von Sehr Gut Wesen

Kiwi summer 2016, still had some growing to do. She's big boned.

Kiwi has filled out into a nice size stocky girl now 2018. Will be updating her photo soon to show her off. Stunning size for a girl. Check back in Mid February 2018 for new photo's as she has now completly filled out into an impressive size girl.
Below is Kiwi's pedigree. First her Dam, then her Sires Pedigree
--------------------------------------------------------------------------------------------------------------------------------------------------------------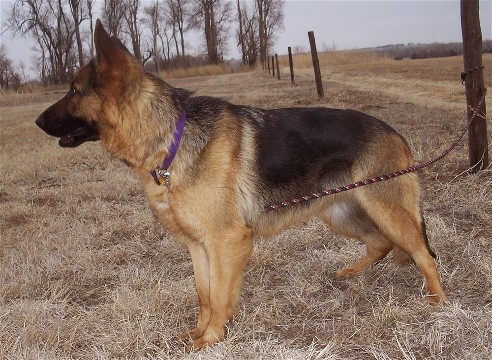 Kiwi's Dam, Nina Von Sehr Gut
Black and Red / Normal Coat, 83 lbs
Hips & Elbows OFA normal, DM cleared by parentage
Nina is from our own breeding program out of Pepin and Ugo
Ugo vom Adel Haus
OFA Fair, DM clear
Outcross German Working/Show lines

1 more generation on this table you would see:

SCHH3 FH1
VA1 Rikkor von Bad-Boll
and
SchH3/FH
VA5 Yago vom Wildsteiger Land




SCHH 3
V Quax von der Lapperdinger Höhe
SV 2122215
HD-SV: HD a-normal (a1)
Sire


SCHH3


V Tamos von Bad-Boll


2000
SZ 2072608
HD-SV: HD a-normal (a1)
Sire

SCHH3
4X VA (DE-US-CAN) Kevin vom Murrtal
1998
SZ 2020273
HD-Normal
Sire


SCHH2
V Susa von Bad-Boll
1996
SZ 1969477
HD-normal
Dam
SCHH 1
V Maja von der Lapperdinger Höhe
1998
SZ 2015178
HD-SV: HD a-normal (a1)
Dam

SchH3
V Urk von der Wienerau
1993
SZ 1873963
HD-normal
Sire

Dixi von der Rusel
1991
SZ 1824417
HD-normal
Dam


Ugo's Dame:SCHH3
V Xaviera vom Klövensteener Forst2001
SZ 2078298
HD-SV: HD a-normal (a1)
Dam



SCHH3,FH,LGA-TEILN./ BSP-TEILN-LGA-SIEGER
V Ahron von Granit Rose
1995
SZ 1944360
HD-Normal
Sire

SchH3


SG Brutus vom grauen Stern


1991
SZ 1805016
HD-normal
Sire
SCHH 2


Bora vom Schwarzen Milan


1992
SV 1824355
HD-fast normal
Dam

SchH2


SG Ültje vom Klövensteener Forst


1994
SZ 1901499
HD-normal
Dam


SchH3/FH
V Atze vom Zülpicher See
1988
SZ 1731730
HD-fast normal
Sire

SchH3


Schnuppe vom Klövensteener Forst


1989
SZ 1763797
HD-normal
Dam


Pepin vom Schlossfelsen
OFA Good, DM Clear

Sch I, SV, BH, AD, A1 HD-ZW 81, SZ 2132983

"a" normal = good hips

SchH3
VA Hill vom Farbenspiel
2000
SZ 2058265
HD-Normal


SCHH3


VA8 Huppy von Arlett


1996
SZ 1964660
HD-normal
Sire

SCHH2


V Dasti vom Farbenspiel


1994
SZ 1917706
HD-normal


Dam

SCHH1
V Tabita van Noort
1998
SZ 2032960
HD-Normal


SCHH 3


VA2 Timo vom Berrekasten


1996
SZ 1969122
HD-normal
Sire
SCHH1


V Xandrana van Noort


1993
SZ 1885796
HD-normal


Dam

Dam
Hesta Vom Haus Brezel SV, AKC
OFA Good

Sire




V Polo vom Schloss Runding

,


SchH3

, IPO3, FH1, a2SZ/2045062
HD-fast Normal


Sire




V Grando dei Profeti

,
1997 SCHH3
SZ 9111426
HD-SV: HD a-normal (a1)

Dam




V

Sindie vom Schloss Runding

,


SchH2

, FH1,1997
SZ 1904946
HD-normal

Dam




V

Samba von der Wienerau

,


SchH1

, a2,SZ/1943553
HD-fast normal


Sire


VA

2

Cash vom Wildsteiger Land

,


SchH3

, a1,SZ 1793773
HD-normal

Dam


V

Venja von der Wienerau

,


SchH2

, a1,

SZ 1763097
HD-normal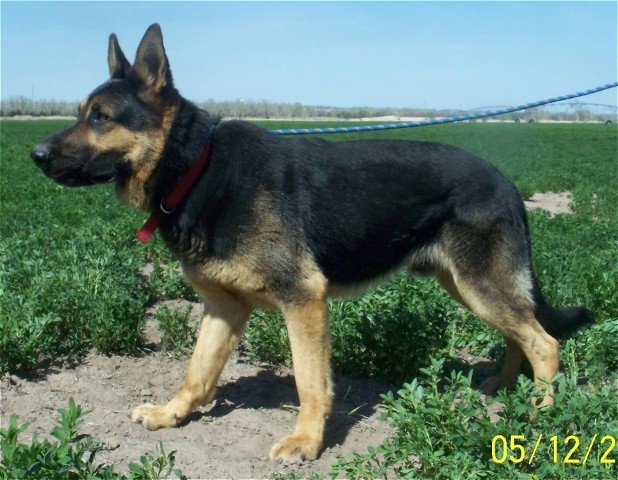 Kiwi's Sire, My Tribute Von Hena-C
100% DDR East German Working lines blk/tan dob 12/24/08, 100 lbs, AKC, DNA, OFA
HD-Good / Elbows normal DM clear
BH
Gero vom Rockenberger Schloß
HD-SV: HD a-normal (a1)
Sire

DDR Import. ZW:71 "a" normal hips & elbows clear

SCHH3 (SG-LGA)
V Aron vom Sachsentraum
1993
SZ 1875410
HD-SV: HD a-normal (a1)
Sire



SCHH2


SG Filou vom Kaolinsee


1987
SZ 1857919
HD-normal
Sire

SchH3
SG Ilka vom Sachsenwappen
1989
SZ 1840221
HD-normal
Dam


SCHH3


Tessa vom Ratsberg


1994
SZ 1887166
HD-SV: HD a-normal (a1)
Dam

SCHH3


Mingo vom Ratsberg


1990
SZ 1876637
HD-fast normal
Sire
SCHH2


Yanke vom Haus Assja


1983
SZ 9004377
HD-SV: HD a-normal (a1)
Dam

SchH1, DDR importOFA Good hips(GS-59128G58F-T) and elbows clear

SchH3/IP3
V Don vom Haus Iris
1991
SZ 1801343
HD-normal
Sire




SchH3/PSH1
V Alf vom Körnersee
1983
SZ 1831928
HD-normal
Sire

SCHH3
SG Gabi von der alten Wassermühle
1988
SZ 1836521
HD-normal
Dam

SCHH1


Cessi vom Parchimer Land


1990
SZ 1837493
HD-fast normal
Dam



SCHH2 FH
SG Addi von den Tonteichen
1986
SZ 1826064
HD-SV: HD a-Ausland (a6)
Sire

SchH1


Klockow's Perle


1987
SZ 1813265
HD-normal
Dam
Kiwi's Grandmother's Pedigree, My Tribute Von Hena-C Dam
Destiny's Treu Child Von Hena-C, OFA good, Pedigree Below
SCHH 1
V-Treu vom Schäferliesel
2000
DDR
HD-SV: HD a-normal (a1)
Sire



SCHH3
V Sven vom Gräfental
1996
SZ 1963946
HD-SV: HD a-normal (a1)
Sire


SCHH2
V Götz vom Gräfental
1990
SZ 1802917
HD-SV: HD a-fast normal (a2)
Sire


SchH3/PSH1
V Alf vom Körnersee
1983
SZ 1831928
HD-normal
Sire


SCHH1


SG Tapsi vom Parchimer Land


DDR 9005217
HD-normal
Dam

SCHH1
SG Olita vom Gräfental
1985
DDR 144447
HD-SV: HD a-normal (a1)
Dam


SCHH2, FH
V Aras v Gräfental
1981
DDR 122609
HD-
Sire


FH/FH1


SG Britt v Böttcherstuck


1978
DDR 99569
HD-SV: HD a-normal (a1)
Dam


V-Illa von der Mittlehauser Flur
1996
SZ 1950787
HD-
Dam


SCHH3 ( SG-LGA )
V Brando von der Marderklause 1991
SZ 1813132
HD-SV: HD a-normal (a1)
Sire



SCHH3 ( G-BSP ) IP3
SG Irko vom Peri-Hof
1987
SZ 1843550
HD-Normal
Sire

FH, SCHH3


SG

Odett von der Marderklause


1987
SZ 9005676
HD-normal


Dam

SCHH3
SG Cessi vom Gleisdreieck 1990
SZ 1807929
HD-SV: HD a-normal (a1)
Dam


SCHH3,FH,PSH1,KÖR.5547/34
V Bac vom weißen Holz
SZ 1739567
HD-SV: HD a-normal (a1)
Sire

SchH3


SG Astritt von Starkenberg


HD-normal
Dam


Destiny von Haus Cimmerian
1998
AKC DL74663604
HD-OFA: Good
Dam



SCHH3 DPO2.WPO.3XUSA DPO CH..7TH WORLD KKL-1
SG Alk vom Osterburg Quell
1992
SZ 1853017
HD-OFA: Good
Sire

police k-9. National Police Dog Champion

SCHH3, FH3
SG Lord vom Gleisdreieck
1983
SZ 1735999
HD-SV: HD a-normal (a1)
Sire


SchH2/FH
V Jeff vom Flämings-Sand
1979
SZ 1609706
HD-normal
Sire

SCHH3,FH
V Sara vom Bramberg
SZ 9003169
HD-SV: HD a-normal (a1)
Dam


SchH3/FH/PSH2
V Mentor vom Haus Iris
1981
SZ 9002709
HD-SV: HD a-normal (a1)
Sire



SchH1
Jen-Ager's Yla
DKK 2649391
HD-FCI: A 1/2
Dam



SchH3, FH1
V Zorro vom Laager Wall
1984
DDR 137140
HD-normal
Sire


SCHH2 FH
V Artus von der Westendhöhe
1979
DDR 104997
HD-zuerkannt
Sire

FH
Gina von der Datze
1985
DK 07959/91
HD-SV: HD a-normal (a1)
Dam


SchH3
V Held vom Ritterberg
1978
DDR 103314
HD-SV: HD a-Ausland (a6)
Sire